USS William C. Lawe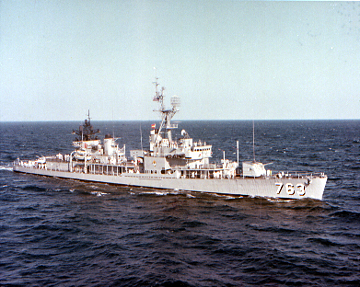 As a former crewmember, I have not been able to find much information on the "Willie C" so I have started this page to honor her and supply what info I can find for anyone else who has served aboard her. I was a Machinist's Mate who went aboard in August 1966 just out of "A" school. I served in both engine rooms while aboard and left (separated) in May 1970 as an E-5. Great memories and outstanding shipmates!
---
Pictures of ship
Reunion information
Informative links
Printable Ship Calendar(in pdf format)
Ship's Store
The Gearing Class destroyers
Tribute to a shipmate
Quarters! Be sure to muster in

---
You are the






visitor to cross our quarterdeck. Welcome aboard and visit us again!

This Tonkin Gulf Yacht Club site owned by Bob Lingle.
[ Previous 5 Sites | Previous | Next | Next 5 Sites | Random Site | List Sites ]
The Brothers Of Nam SiteRing

This site owned by
Bob Lingle
SiteRing by Bravenet.com
Counter reset March 19, 2000
This site last modified 05-14-04.